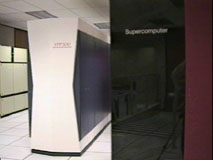 Computer Systems
Here are product samples that were produced for clients.
Multi-CPU cluster computer system

The supercomputers shown on the above picture were cost millions of dollars. In '90s, scientists and engineers were still relied upon these kind of computers for computing.

Now, the equivalent computational power can be obtained by linking many inexpensive computers together. The cost of a multi-CPU cluster computer system is lot less than an old style "big iron" supercomputer.

A staff member of FutuerVisions worked on a project that used 100 computers. Each computer has a CPU with 1 GHz clock cycle and 1 GBytes memory. The computers were linked by a switcher, and the communication of computers were handle by IP to IP transaction. All computers use Microsoft Windows 2000 operating system, and each computer has animation software systems installed.

The multi-CPU cluster system uses a tera-byte RAID storage system that uses high-speed optical cables to connect the RAID to each computer's communication port.

The whole system was housed in an air-conditioned room with operating temperature less than 75 degree Fahrenheit.

The system was used to produce high-definition ride film animation sequence. Each frame rendering time was about 8 hours. It took about a month of continuous rendering to finish the job.