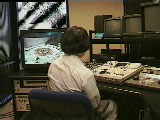 Streaming Media
Here are product samples that were produced for clients.
Pet Monitoring Realtime Video System

A dog owner is looking for an inexpensive monitoring system to watch his pet from his work place.

FutureVisions hooked up a web cam to his home computer, and downloaded Windows Media Encoder. The web cam is set at the place where the pet hangs around most.

Windows Media Encoder is also a streaming media server. It streams the video from a computer, and the video is accessed via a weblink on a webpage.

Dance Instructions with Streaming Video

Keith is a tango instructor who has to teach students intricate tango steps over and over again.

FutureVisons made demo video tapes for Keith, and also made the videos into web accessible streaming videos.

Keith's students can now see instructions anytime they wish.