"Looking for entertainment that will spice up your party, festive gathering or special event? Sabiba's performance always enhances a celebration. Ever the sophisticated, elegant, alluring yet tasteful dancer, audiences are mesmerized by her charm and energy."
Call 408-416-8595 or
Send e-mail
to schedule for performances!
Happy 2015
Performing regularly weekends at Menara Moroccan Restaurant, San Jose, California
Reservations 408-453-1983
Adira Haflas
June 13, August 15, October 17

Hayward Father's Day Celebration

Carnival of Stars August 1-2
Richmond , California
Performing Sunday 6:30pm
*********************
Previous Shows
*********************

Bay Area Belly April, 12, 2015
Redwood City, California

Rakkasah March 13-15, 2015
Dancing to Pangia Band
Una's Annual Holiday Classic
"Special Guest" Performance by
Sabiba
(Flyer Attached)

Desert Dance Festival
Sabiba's Performance
Also Teaching 1 hour Workshop


***
"Catch Sabiba's Sizzling Performance Regularly at
Menara Moroccan Restaurant"
San Jose, CA 408-453-1983
Carnival of Stars
Sabiba's Performance
World Multi-Cultural Day
Hep B Awareness
Sunnyvale Community Center

Rakkasah Belly Dance Festival
Performing with Pangia Band
Desert Dance Festival
Sabiba Performs
Carnival of Stars
Sabiba Performs
Rakkasah
Sabiba Shaking It

Carnival of Stars
Richmond Memorial Auditorium

*****


PHOTOS:

Fantasy Festival

Carnival of Stars

Dancing at Papa's Greek Taverna

****************
Previous Shows
****************

"Bay Area Belly Showcase"
Angelica's Bistro, Main St. Redwood City
Sabiba's Spicy Spanish

Rakkasah
Richmond Memorial Auditorium
Sabiba & Light Rain

"Spring Variety Show"
Presented by
Silicon Valley Concierge Association
Camera One, 288 Second Ave, San Jose

MECDA
Festival and Show
Dancing with Flowers of The Nile
Diabetes Forum
Roosevelt Community Center, San Jose "Dance For Life"

Benefit for Casa Alegra
Angelica's Bistro
Click for
BELLY DANCE STARZ
Info & Flyer

"Desert Dance Festival"
Sabiba with "Pangia"
Tannourine Show Hosted by Andrea
Sabiba Dances At Tannourine
San Mateo, California
Click for More Info.
"Adira Hafla"
Willow Glen, San Jose
"Dancing on The Square"
Downtown Redwood City
Sabiba and Students

Rakkasah Festival

Menara Valentine's Day Show
Sabiba, Stephanie & Jamina
"A Tribute to The King of Rock & Roll"
Capitol Square Shopping Center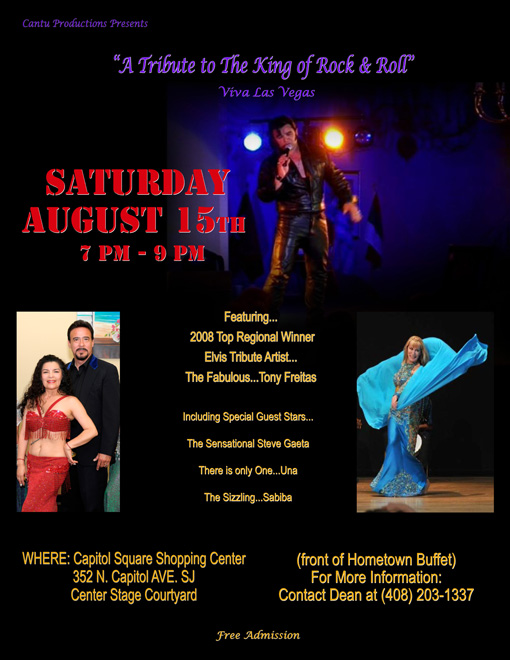 (Click for Flyer)