Daniel Roest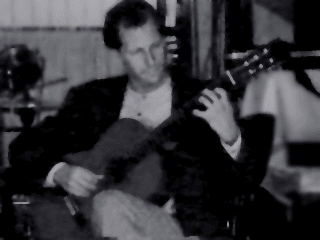 Playing La Cumparsita (recorded in wav format)
Daniel Roest has performed annually at the Lick Observatory Music of the Spheres concerts since 1983. He has given countless solo and ensemble performances in nearly every kind of venue.
He is well known in the Bay Area, not only for his playing, but for supporting gifted players and bringing artists and audiences together.As Artistic Director of the South Bay Guitar Society, Daniel is making the South Bay known for great guitar concerts.
Guitarist, Artistic Director of the South Bay Guitar Society
Roest (pronounced "roost") grew up in a family that valued art and music. Guitar lessons from the age of seven and seeing a concert by Andres Segovia spurred a lifelong passion for classical guitar and lessons with one of the master's students, the late Bunyan Webb. He later studied with Robert Burns and Bahram Behroozi while gaining a Masters Degree in Music Performance, and he participated in master classes with many of the world's best classical guitarists.
Daniel has developed the South Bay Guitar Society into a thriving nonprofit arts organization, presenting artists such as Christopher Parkening, Sharon Isbin and Carlos Barbosa-Lima. Throughout his career Daniel has taught guitar privately and publicly, including Foothill College, De Anza College and California State University, Stanislaus, recently trimming back to just De Anza. Daniel, Alison and Craig Roest make their home in downtown San Jose.